Fashion
Sunglasses are no longer just for blocking out sun; they must also make a statement. The sunglasses you wear not only show the world who you are, but they also set your attitude.
At Dr. Kenneth I. Uzick & Associates, we carry a large selection of designer and fashion shades. Our buyers keep up with the latest trends to ensure that we can provide you with the perfect pair of sunglasses.
Visit our office to browse through our inventory of Designer and Fashion eye wear and let one of professionals assist you.
Sport
Yeah, they look cool, but Sport Sunglasses are designed for specific purposes: they must fit perfectly, block the right type of light, allow other type of light in all the while feeling like they are not there.
We have sports sunglasses for every occasion by all the top designers. Our knowledgeable staff is waiting to assist you in being fitted with the right sunglasses for your need.
Specialty
Whether you are hitting the slopes, or swimming the English Channel, we at Dr Kennith I. Uzick & Associates have already anticipated your need. Our staff is able to provide you with a wide variety of specialty glasses and goggles for every occasion.
With brands like Oakley, Nike, Adidas and more, we are able to fit you for your specific need. If prescription lenses are required we can also fit your specialty wear with prescription lenses.
Our Location
8335 Westchester Dr.
Suite 120

Dallas
,
TX
75225
(214) 361-1010
Follow Us
Our Awards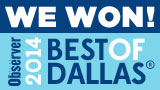 Our Awards